Grand Casino Le Pharaon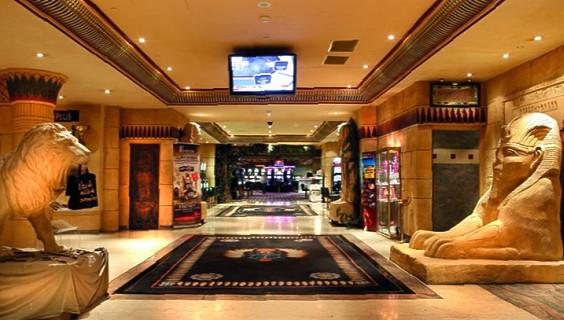 The Grand Casino Le Pharaon is one of Lyon's most extravagant casinos. As a Partouche Group casino, Le Pharaon is among the most successful casinos in France. Its decoration and theme is inspired by Ancient Egypt, reflecting the grandiose style of architecture and design prized by the Egyptian Pharaohs.
The Casino Le Pharaon is truly a unique experience. Arriving guests are welcomed by the casino's female staff who are dressed in the most elaborate Egyptian costumes. Guests are escorted through the beautifully decorated entry way filled with frescoes and hieroglyphics into the casino where they'll find over 250 gaming machines including a variety of different table and poker games. Among them are three Blackjack tables, six Boule tables, six tables of English Roulette, another six tables of Poker, one Punto Banco table and three tables for Stud Poker.

In between your time at the tables, Le Pharaon features two exquisite bars where you can order any specialty cocktail. For a night out and great food, the Valley of the Kings restaurant is absolutely a must. Well renowned and highly recommended, the Valley of the Kings serves many French delicacies –a great opportunity to taste the cuisine of Lyon. This restaurant is an ideal setting for romantic dinners or business lunches. Reservations should be made at least a week in advance as room fills up quickly. For a prolonged stay at the Grand Casino Le Pharaon, guests can enjoy the Pharaon Hotel, a luxurious 200 room Hilton.
Opening hours
7/7 10h00 - 4h00.
Address
70 Quai Charles de Gaulle, Cite Internationale
69463 Lyon Cedex 06, France
Contact
URL: www.casino-lyon.com
Tel. +33 4 78 17 53 53
Fax. +33 4 78 17 53 50

Map