Business
With an annual GDP of 62 billion Euros, Lyon and its region, the Rhône Alpes represent the most important European economies. Lyon is the second richest city in France, after Paris and is the fourteenth favorite city in the European Union in terms of investment and company creation.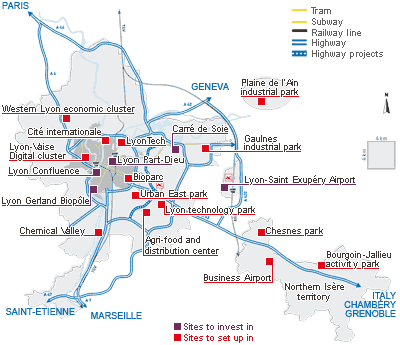 A Flourishing Economy
Lyon is home to many industries including high-tech. Some of the top growing industries found in Lyon are software development, internet services and biotechnology. Lyon is also well known for their non-profit institutions, medical research & technology and universities. Many successful companies are headquartered in Lyon including LVL Medical, Compagnie National du Rhône, Renault Trucks, Euronews and Boiron. In addition to industry and corporation, Lyon is also home to international agencies and intergovernmental organizations such as IARC and Interpol. Lyon is well known for its business centers. After La Défense in Paris, Lyon features the largest business center in France with more than 1.6 million square meters of office space, supporting over 40,000 jobs.

Business or pleasure?
Contributing to Lyon's impressive economy is of course tourism. This accounted for 1 billion Euros in 2007 alone. Close to 60% of all tourists arrive to Lyon each year for business. In 2006, there were more than 3 million nights booked in hotels by tourists and in 2009, Lyon was ranked number one for hostels. With such a thriving economy, Lyon has quickly become a center for entrepreneurship and start-ups. Lyon has been recognized for being the 8th leading city worldwide for innovation. In 2011, multinational professional services firm Ernst & Young named the city of Lyon the 1st French city to be able to compete with Paris for 51% of foreign investors. In a list of top business cities in Europe, Cushman & Wakefield placed Lyon at number 19. With 2 of its 5 competitiveness centers holding world-class status, Lyon's attractiveness for business has not gone unnoticed. The international community continues to experience its success first hand and as more come to visit, the more developed and dynamic it becomes.