Le Lion Blanc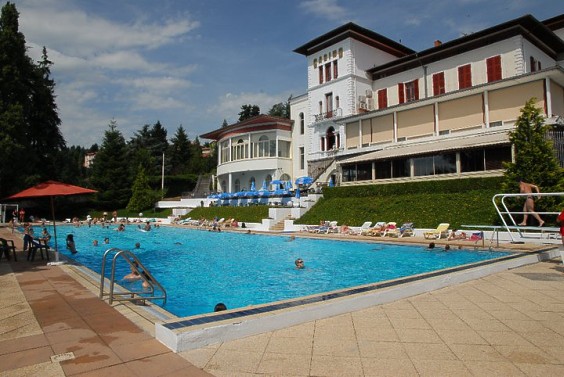 On an island covered in green in the historic old town, between St. Etienne and Roanne sits the village of Saint-Galmier. In a classic turn of the century manor overlooking the plain of Forez, is the casino of Saint-Galmier, Le Lion Blanc. This beautiful setting makes for an ideal place for both recreation and leisure. Being a Partouche Group casino, there are many reasons to visit Le Lion Blanc. Guests will discover a wonderful combination of quality casino games and premium entertainment.
Casino Le Lion Blanc is adequately furnished with a top choice of casino games. Among them are more than 130 slot machines, four Texas Hold'em Poker tables, a Blackjack table and English Roulette.

Although known for their impressive casino, Le Lion Blanc is a great choice for entertainment, relaxation and all kinds of events. Throughout the year, guests can enjoy various shows from concerts to dancing. Le Lion Blanc pool is absolutely exquisite and their rooms and lounges provide an excellent venue for parties, conferences, weddings and receptions. If staying in shape is part of your daily regiment then you'll definitely enjoy Le Lion Blanc's fitness center and spa. Their Form Up club offers a full-package service including yoga, massage, spa services, facials, workout area and even personal trainers.

After a nice workout or day of beauty, guests are welcome to enjoy a wonderful meal at Le Lion Blanc restaurant. With incredible food and wine selection comes a nice view of the pool and park. For business or pleasure, Le Lion Blanc restaurant is a great location for reunions, business lunches or intimate dinners.
Opening hours
From Sunday to Thursday 10h00 - 4h00, Friday and Saturday 10h00 - 5h00.
Address
Boulevard du Docteur Cousin
42330 Saint-Gamier, France
Contact
URL: www.casinosaintgalmier.com
Tel. +33 4 77 54 01 99
Fax. +33 4 77 54 18 57
Map